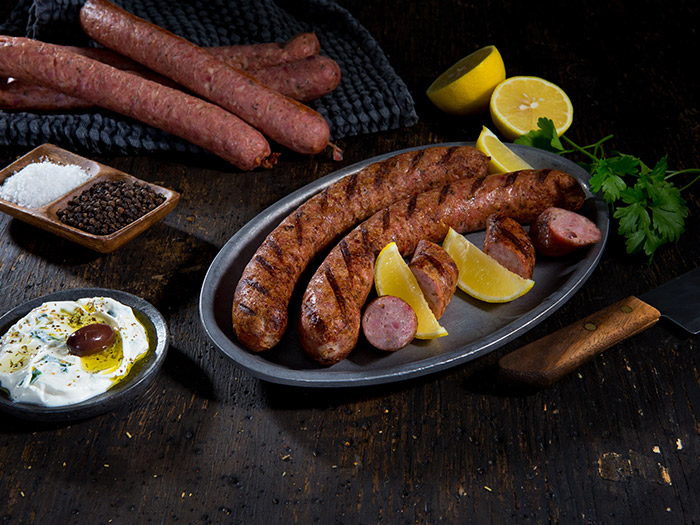 Loukaniko with Homemade Tzatziki Sauce
While loukaniko can refer to any number of sausages in Greek, it's the orange-spiced version that's most associated with the name, and for good reason. The citrus gives these links a distinctive, bright flavour that gains depth from a mix of herbs and spices, all of which come together to create a fresh-tasting sausage that fits seamlessly into a summer cookout.
12 Servings

Active Time: 

15 minutes

Total Time: 

3h25

Ingredients
For Homemade Tzatziki
2 cups Greek yogurt
1 large cucumber, peeled, grated, tossed with 1/2 teaspoon of salt
4 cloves garlic, very finely minced
juice of half a lemon or vinegar to taste
3 tbsp chopped fresh dill and/or mint
salt, pepper, cayenne to taste

For Grilled Loukaniko
Type of fire: Direct
Grill heat: medium-high

Homemade Tzatziki Sauce (makes about 3 cups)
1 Sprinkle grated cucumber with 1/2 teaspoon salt in a bowl and let stand 10 to 15 minutes to draw out juice.
2 Place yogurt into a separate bowl. Dump cucumber and its juice onto a sturdy, dry paper or cloth towel and squeeze as much moisture as possible from the cucumber. Mix cucumber into yogurt. Add garlic, cayenne pepper, and lemon juice; mix thoroughly.
3 Stir dill and mint into yogurt-cucumber mixture; season with salt and black pepper. Adjust all seasonings to taste.
4 Cover bowl with plastic wrap and refrigerate for 3 or 4 hours (or overnight). Transfer to a serving bowl and garnish with a sprig of dill and a sprinkle of cayenne pepper for color.

Grilling New Milano Loukaniko
1 Set cooking grate in place, cover grill and allow to preheat for 5 minutes.
2 Clean and oil the grilling grate.
3 Grill over medium-high direct heat until sausage registers 160°F when an instant read thermometer is inserted in middle of link.
4 Remove from grill, let rest for 5 minutes. Serve immediately or for extra crispy sausages, split links down middle and place back on the grill, cut side down, and cook until well browned, about 2 minutes.