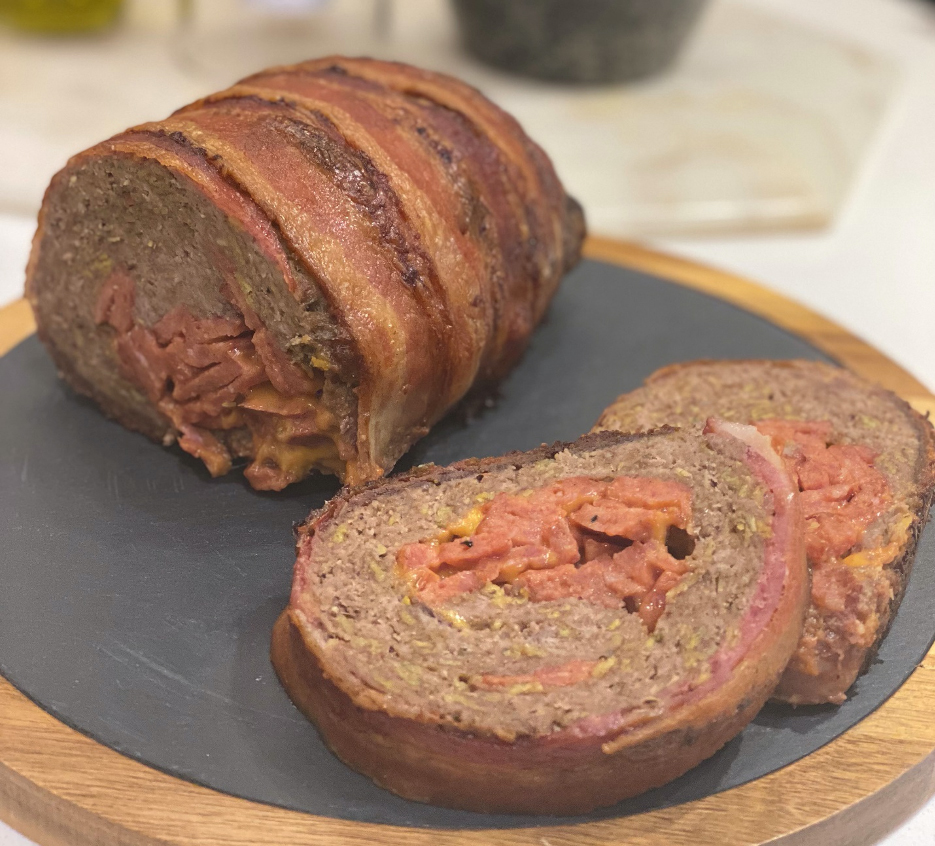 Pepperoni stuffed Meat Loaf
Prep time: 20 minutes
Cook time: 45 minutes
Servings: 8
Ingredients
910 g of ground beef
New Milano pepperoni (1 stick)
10 slices of bacon
8 slices of cheddar cheese
2 eggs
1 cup of breadcrumb
10 ml (2 teaspoons) of garlic powder
10 ml (2 teaspoons) of salt
5 ml (1 teaspoon) of pepper
Directions
1 Preheat the oven to 350°F (180°C)
2 In a large bowl, mix the ground beef, eggs, breadcrumbs, salt, pepper, and garlic powder. Mix until well combined.
3 Put the mixture in a medium baking tray lined with aluminum foil and distribute the meat mixture evenly.
4 Add the pepperoni and cheese, on top of the meat.
5 Carefully lift the meat and form a loaf.
6 In another aluminum-lined baking tray, place the slices of bacon side by side, one next to the other. Place the meat loaf on top of the bacon.
7 Roll up the meat with the bacon, then wrap with foil.
8 Bake the aluminum-wrapped loaf for 25 minutes.
9 Increase the temperature to 500°F (260°C). Remove the foil and bake for 20 more minutes until the bacon is golden brown and crispy.
10 Cool for 5 minutes, then slice and serve.