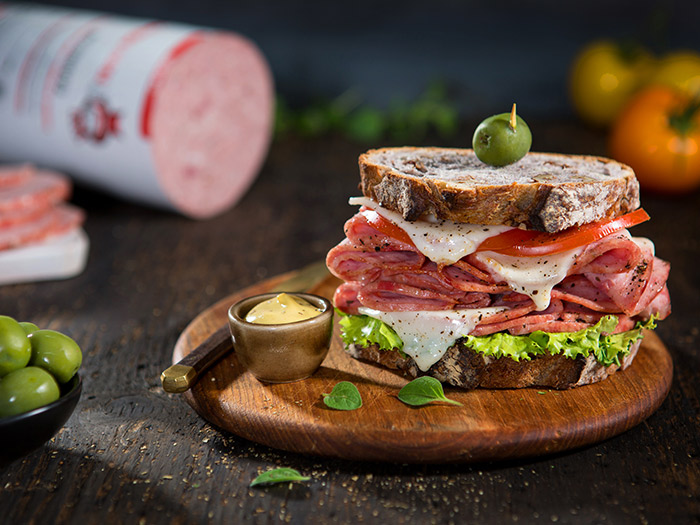 Italian Salami Sandwiches
Italian Salami Sandwiches with pesto, provolone cheese, and roasted red peppers on homemade bread.

Ingredients
1/2

 

loaf homemade bread

1/2

 

medium red onion

1/2

 

cup

 

white or red wine vinegar

1/2

 

Tbsp

 

white sugar

3/4

 

tsp

 

salt

6

 

Tbsp

 

pesto

3

 

Tbsp

 

mayonnaise

1/3

 

lb.

 

New Milano Salami

6

 

slices

 

provolone cheese

1/2 12 oz.

 

jar

 

roasted red peppers

2

 

cups

 

spinach

Instructions
1 At some point before making the sandwiches (at least one hour ahead of time, up to a couple days ahead), make the quick pickled red onions. Thinly slice the red onions and place them in a bowl or jar. Mix together the vinegar, salt, and sugar until the salt and sugar are dissolved. Pour the vinegar mixture over the onions, making sure they're all covered. Refrigerate for at least one hour, or up to a couple of days.
2 When you're ready to make the sandwiches, slice the bread into twelve pieces. Spread the pesto over each bottom pieces (1 tablespoon for each piece) and thinly spread the mayonnaise over the top pieces (about a 1/2 tablespoon each).
3 Layer the sandwich toppings on. They don't have to be in any particular order, but I layered mine as follows: salami, provolone, pickled red onion, roasted red peppers, then spinach.
4 Place the top pieces of bread back over the sandwich filling and slice through again to separate the six sandwiches. If you're making a sandwich platter, you can further cut each sandwich into 2-4 pieces. Place a toothpick through each one to hold the sandwich together.